4.83
7 reviews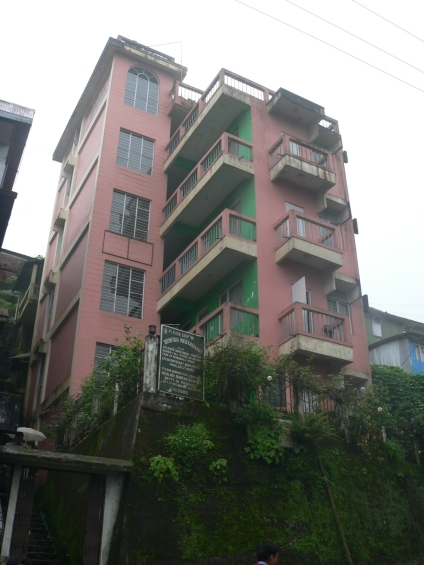 Darjeeling, a beauty queen of Himalaya, pride of every Indian, is the best place to ovserve the changing beauty of the majestic Kanchanjangha. This hill top town for its beauty, climate, flora and fauna has been hypnotizing the tourists both at home and abroad since it has come to shape. Benfish has made its effort to house the choosy tourists in its majestic building near Rly. Station to witness the exclusive beauty of 'Kanchanjangha.'
Hotel Facilities
General

1. Most affordable accommodation facilities for Bengali Travellers with attached bath, Geyser.
2. Sufficient 'WATER' for tourists (Cold/Hot).
3. Wide view of Valley and panoramic view of Mt. Kanchenjunga range.
4. Close to Darjeeling railway station.
5. Standard rooms & excellent service.
6. Best food options which suits every body.


Activities

1. Lowest Room rent compared to other Hotels of the vicinity - facility being almost same.
2. Water from aqua guard.(Mineral water - chargeable)
3. Generator service during power cut (limited time).
4. Spontaneous service.
5. Supply of hot water, if rooms have no geyser.
6. Branded/Good quality new materials used in kitchen.
7. Wash/clean bedding materials.
8. Special care for elderly or/and physically weak.
9. Polite behavior & caring mentality.
10. Fully safe & secured.
11. Transparent transaction.
12. Internet Booking facility.

Services

1. Room Service.
2. In-house Restaurant.

Hotel Policies
| | |
| --- | --- |
| Check in | From 11:30 AM hours |
| Check out | Until 11:00 AM hours |
| Pets | Pets are NOT allowed. |
Important Information
1. Booking will be open clear 90 days in advance.
2. Full payment to be made at the time of booking.
3. Limited spot booking available.
4. Any reservation may be cancelled by the authority under unavoidable circumstances.
5. Enhanced tarrif if any shall be payable by the party even if the original booking is done on the previous tarrif.
6. 10% service charge will be payable at tourist lodge (Except Dormitory).
7. Room Tarrif is dynamic in nature.
8. Lunch/Dinner and breakfast are mandatory at tourist lodge for all occupants.
9. Luxury tax will be applicable if A.C. room tarrif is above Rs. 1000/- (Except Puri), will be payable at tourist lodge.
10. Service tax as applicable, will be payable at tourist lodge.
11. Booking is not transferable.

Cancellation Policy

1. In case, request for cancellation of reservation is received :-
a) Clear 15 days or more days before - 20% will be deducted.
b) Between clear 7 days to 14 days before - 50% will be deducted.
c) Between clear 3 days to 6 days before - 75% will be deducted.
d) Less than 3 days - no refund.
2. Date of occupation not to be counted.
3. The calculation for refund will be calculated on the basis of check in date.
3. 'Partial cancellation' is not allowed.
4. Refund will be processed online within 7 working days.
5. No cancellation refund will be allowed for no show, early checkout for any reason whatsoever.
6. Due to any circumstances, if room is not availed by the customer on arrival, in such cases, any refund is the discretion of the authority and limited to max tarrif of that room.

Special Note

A copy of valid photo identity card submitted at the time of check-in.
Alteration of dates is not allowed.
All benfish tourist lodges have attached restaurants.
Generator will be in operation in case of load-shedding in evening between 6:30 pm to 10:30 pm.
Geyser/AC will not be operational during load-shedding.